Honeysuckle Cushion - Single (Assorted)
Product Description
Honeysuckle affects some cats the same way catnip does! They like to inhale, rub on, and lick it, and it can result in extra playfulness and energy. In fact, many cats that don't respond to catnip are affected by honeysuckle. Our honeysuckle toys are made in the USA and filled with quality honeysuckle.
Tip: if your honeysuckle toy seems to lose some of its potency, spritzing it with water will rejuvenate it!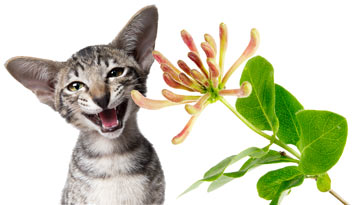 Cats will love this Honeysuckle Cushion toy. Some cats don't respond to catnip, but most of those cats do respond to honeysuckle. This cushion is perfect for hugging, kicking, biting, batting around, and using as a pillow when playtime is over.
Perfect For:
Pouncing on, playing hide and seek with, chewing at, and kicking.
Using as a pillow when playtime is done.
Encouraging your kitty to get some exercise.
Product Facts:
Measures 3" by 2.75".
Price is for one cushion.
Comes in a variety of designs; please allow us to choose one for you!
Not all cats respond to honeysuckle, but many cats absolutely love it.
Made in the USA.
Note: Honeysuckle cat toys are made with the wood of the Tartarian honeysuckle bush, not with honeysuckle flowers, which are toxic to cats. Therefore, honeysuckle cat toys don't smell like honeysuckle flowers. But not to worry. It smells divine to kitties.

I have some friends that don't seem to care for catnip. I've always felt kind of bad that they didn't join in when the rest of us got our crazy on with a catnip party. Luckily, my human knows a thing or two about cats and got us some of these honeysuckle pillows. Turns out that cats that don't respond to catnip often react in a similar manner to honeysuckle. Now all of my buddies can join in the craziness!
Other Details
atc-product:
/honeysuckle-play-mat-single-assorted/
atc-product:
/honeysuckle-funky-mouse-single-assorted/
atc-product:
/honeysuckle-small-body-pillow-single-assorted/
atc-product:
/honeysuckle-cushion-single-assorted/
Product Reviews
Write Review
Not Happy

Posted by Danielle on 30th Aug 2016

Not Happy with Product. As soon I received it I held it up to each of our 9 cats and not one of our cats had any interest in it - yet they LOVE catnip. Emailed Soft Paws to initiate a return of the two (expensive) items purchased to exchange for catnip items instead and I was ignored. I have waited weeks for a response. I don't understand :( We would have ordered quite a bit from Soft Paws - why not answer my emails and approve an exchange?

Message from Soft Paws:
Please contact us so we can fix this problem for you.
Find Similar Products by Category