Tiger Dreamz Beddy Ball Bed (US Only)
Product Description
Continental US Orders Only Please.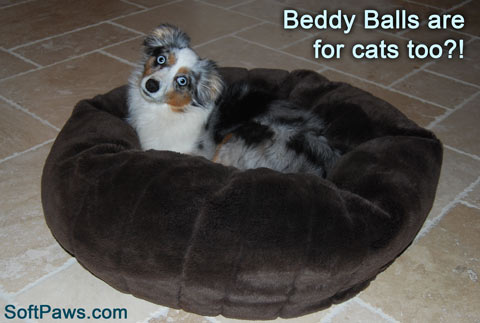 The Tiger Dreamz Beddy Ball pet bed is a stunningly beautiful, ultra-soft bed made of faux animal fur that mimics the feel, beauty, and softness of real fur. The bed will look incredible in your home, and feels like a marshmallow for a cat to perch on. You'll probably be tempted to snuggle up to it yourself, but it's unlikely that your cat will ever give you the chance!
Product Facts:
Machine-washable in cool or warm water
Do not machine dry! Air dry to maintain the soft texture
Beddy balls are approximately 26" in diameter and 11-12" tall
Available in 2 colors:
Pictures are to show scale/product in use. Product is available in Ocelot and Black Forest Cake, and swatches of those colors can be viewed by choosing those colors. Bubba, the dog in the pictures, is a miniature Australian shepherd who is about 25 pounds.
Find Similar Products by Category