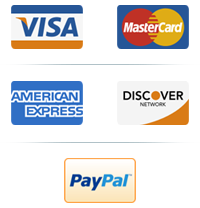 Shipping & Returns
Free Shipping on orders over $49.00!
Customers receive free* standard USPS First Class Mail shipping on any applicable order over $49 for orders shipped to United States addresses only.
All orders will be shipped within 2 (two) Business days. Our business days are Monday through Friday with the exception of US Holidays.
Priority and Express orders will be shipped the same day if received during regular business days (Monday through Friday) BEFORE 1:00 PM Pacific Time. If you place an order over the weekend with Priority, or Express shipping, or on a postal holiday, your order will be shipped the next Business Day as described above. For all shipping methods except overnight services, keep in mind that the postal carrier does not count the pickup day as a shipping day. Rather, the next business day following the pickup of the package will count as the first shipping day.
Shipping time estimates from date of shipping from our warehouse
United States Delivery addresses:
USPS First Class Mail within the US - 5-7 Business days
USPS Priority Mail within the US - 2-4 Business Days
USPS Express Mail within the US - 1-3 Business Days
FedEx Ground within the US - 5-7 Business days
FedEx Express Saver - 2-3 Business days
FedEx 2 Day - 2 Business days
FedEx Standard Overnight - will be delivered the next business day
International Delivery Addresses:
USPS First Class International Mail - 10-20 Business days
USPS Priority Mail - 5-10 Business days
USPS Express Mail - 3-5 Business days
Shipping times above are estimates. Times are dependent upon USPS and FedEx shipping services and may be effected by postal or customs delays. We cannot be responsible if the Postal Service or FedEx experiences delivery delays.
Duties and Fees: Customer is responsible for any duties and taxes that may be applicable to their country.
Customer is responsible for ensuring a correct shipping address is provided, including any applicable apartment or suite number. If customer does not include a full and complete address, including applicable apartment or suite numbers, and the order is returned to our office by the postal carrier, the customer will be responsible for any additional shipping fees to reship the order.
How do I return an item?
We offer a 90 day money back guarantee. If you are dissatisfied with your product for any reason, simply mail it back to our office within 90 days of purchase and we will issue a refund of the purchase price, minus the shipping costs, to the card used for the original purchase.
Refunds
When returning product for a refund please include a copy of your original packing list along with a note requesting a refund. If you do not have the packing list, include the full name and address used to place the order as well as your contact telephone number, and indicate that you are returning the product for a refund. Please keep in mind that we do not provide return labels, nor do we refund for shipping costs but only for the product(s) being returned.
Upon receipt of the product in our office we will issue a refund; however, keep in mind that your bank or credit card issuer can take anywhere from 7-30 days to post your refund to your account, depending upon their returned funds policy.
Exchanges
If, after receiving your order, you find that you will need to make an exchange for a different size or color, you may return your item(s) with a note stating what you would like to exchange your item for. Please also include a copy of your original packing list or invoice if possible.
To expedite an exchange, you may opt to place a new order on our website for the item you need and then at your convenience return the original item for a refund of the purchase price.
Mail returns to:
Soft Paws c/o Aquanta LLC 39685 Sierra Drive Three Rivers, CA. 93271