Product Description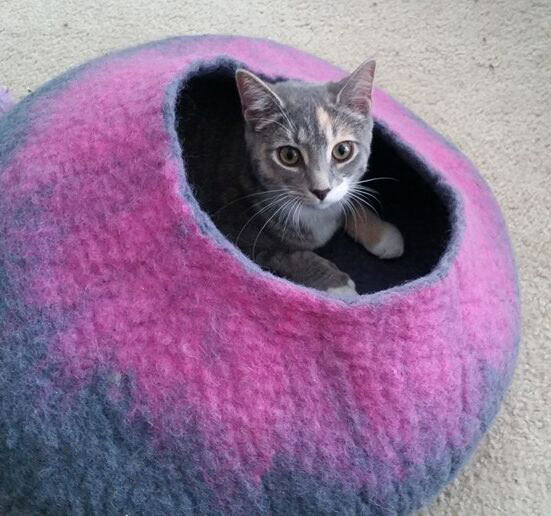 Cats love curling up in small hidey-holes and taking a nap or watching the goings-on from their "hidden" spot. It probably makes them feel safe and helps them satisfy their hunter instincts of hiding and waiting for prey to show up. These Cat Caves are each handmade of all natural, 100% New Zealand wool.
Product Facts and Benefits:
Cozy, and cats love the feel of the natural wool.
Easy to clean: Vacuum, spot clean, or hand wash.
Individually handmade.
Colored with vegetable dye that is safe for cats.
Attractive to humans as well as cats; acts as an art piece in your home.
Available in 19 beautiful colors.
Choose from the following beautiful colors (choose the color above to see a picture of it):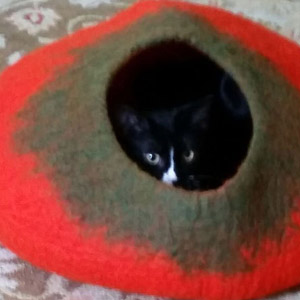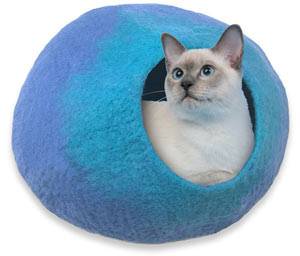 Blue and Turquoise
Gray and Pink
Sky Blue and White
Purple and White
Red and Black
Pink and White
Gray and Light Gray
Maroon and Teal
Rainbow
Black and White
Measurements: 18" high, 10" wide, opening is 7". Slight variations may occur because each cat cave is individually hand-made.

My humans have really done it this time! A Cat Cave arrived in the mail today. Can you believe it? I couldn't! This thing is so soft, smells great, and I could not resist climbing into it as soon as my humans opened it up for me. It is simply awesome. I curl up in there when I want to take a nap undisturbed, hide there when the dog is looking for me, and use it as a base of operations for my hunting expeditions. It's the perfect spot to sit and wait for a mouse or bird to go by, then leap out and pounce on the unsuspecting toy, er, prey. My humans really outdid themselves this time!
Other Details
atc-product:
/muffin-blanket/
atc-product:
/muffin-pillow/
atc-product:
/honeysuckle-large-body-pillow-single-assorted/
atc-product:
/catnip-felt-hearts-single/
Product Reviews
Write Review
awesome cat cave

Posted by j on 2nd Apr 2018

my 2 siamese cats just love the cave, they take turns in it and sometimes tease each other when one is inside

BEST CAT BED!

Posted by Jane on 17th Feb 2018

I purchased one cat Cave and had to order another because this became the prime sleeping spot! Both cats were taking turns sleeping on the bed after squishing it flat. Now we have two of these and two happy cats. One is squished flat and one is a hide away cave! Great item!

A hit!

Posted by Alisha on 27th Dec 2017

I have 3 cats and they all take turns in the one cat cave. I think they were all a little afraid of it at first but they like it now. It's thick material and good quality. I will buy another in the future.
Find Similar Products by Category